Meet Kristen Crawford at Pacific Coast Aesthetics in Aptos, CA
Kristen Crawford is aesthetic consultant at Pacific Coast Aesthetics in Aptos, CA. For more information contact us or schedule a consultation.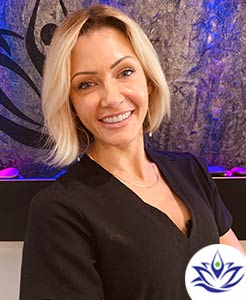 Kristen Crawford
Kristen is a California aesthetic consultant with ten years of experience in clinical aesthetics. She has worked in a medical setting for the past seven years, performing medical-grade treatments such as the Envy Medical Dermalinfusion platform, medical-grade chemical peels, and personalizing home care regimens with the professional skin care line, SkinCeuticals. She is knowledgeable and experienced in creating a skincare program that is effective in treating teen/adult acne, rosacea, and melasma. Kristen has completed multiple advanced training courses with Envy Medical, PCA Skin, SkinMedica, Obagi, and SkinCeuticals. She has extensive experience as a patient coordinator working alongside physicians and other clinicians in the development and coordination of comprehensive treatment plans.
One of Kristen's many passions is her commitment to patient wellness. She embraces a holistic approach, providing education, support, and a personal connection with her patients. "There is nothing more rewarding than knowing I helped make at least one small change in someone's life," she says. "In the study of healthy skin and how to maintain it, I have learned so much about the various supportive treatments and ingredients to protect, regenerate, and support skin tissue using topical products, laser treatments, and injection therapy. As I spend more years in the field and apply it to my personal life, I understand and appreciate the influence of a balanced mind, body, and lifestyle and the large impact it can have on your health, both inside and out."
Kristen was born and raised in Santa Cruz County. She is the mother of two boys and worked as a professional model before deciding to transition into the world of medical aesthetics. Outside of work, she enjoys spending time with her family and going to her favorite dance class. "Dance is my therapy and release," she says. "It's a spiritual experience for me. I would go every day if I could."
"I have also started meditating," she continues, "and I encourage people to try. I am a beginner, but it really helps. Life can be hard. Sometimes we need to sit with ourselves and just breathe."
"I feel so fortunate to be a part of Pacific Coast Aesthetics. It's an amazing opportunity to truly make a difference."