Rosacea Treatment Specialist in Aptos, CA
Rosacea is a chronic inflammatory skin disorder that typically affects the nose and cheeks and results in facial redness, inflammation, and blemishes. It might also result in eye issues. At Pacific Coast Aesthetics,

Dr. John Beuerle MD

., and his

team

, offer many treatment options for rosacea. For more information

contact us

today or book an appointment online. We are conveniently located at

28 Seascape Village, Aptos, CA 95003

.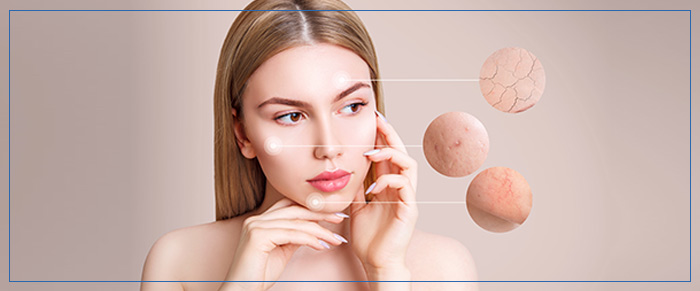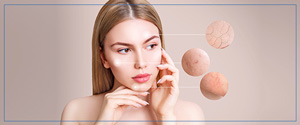 Table of Contents:
What is the main cause of rosacea?
What are the symptoms of rosacea?
What happens if rosacea is left untreated?
How can Pacific Coast Aesthetics treat my Rosacea?
Here at Pacific Coast Aesthetics, our passionate team of medical staff offers a holistic approach to medical spa services. We provide our lovely patients with numerous skin, face, and body cosmetic treatment options. Services such as microdermabrasion, laser therapies, and injectables can help you achieve the body and face of your dreams. We are more than happy to provide these services to you in a safe and supportive environment. One skin condition we treat is called rosacea which causes blushing, flushing, and visible blood vessels in the face. Continue reading below to learn all about rosacea treatment specialists in Aptos, California!
What is the main cause of rosacea?


There actually is no known main cause of rosacea. Environmental factors, genetics, and an overactive immune system can all contribute to the development of rosacea. Once you have rosacea, symptoms can flare up on and off due to the following:

• Skincare products
• Haircare products
• Cosmetic products
• Exercise
• Emotions
• Sun exposure
• Harsh winds
• Blood pressure medications
• Extreme temperatures
• Alcohol
• Hot drinks
• Spicy foods

Although anyone can develop rosacea, you may be more at risk if you are a woman, have sensitive skin, have a family history of rosacea, are over 30 years old, or have a long history of smoking.

What are the symptoms of rosacea?


Rosacea can cause the following symptoms:

Blushing/Flushing

Blushing and flushing in the middle of the face and nose is one of the most noticeable symptoms of rosacea.

Visible Veins

If the veins in your nose or cheeks become visible, you may have rosacea.

Burning Sensation

The parts of your face affected with this skin condition can become slightly warmer and tender than the rest of your face.

Eye Problems

Eye problems including dryness, irritation, swelling, inflammation, and tenderness can begin to develop with more severe cases of rosacea.

Swollen Bumps

Swollen bumps and pimples filled with pus can be a problem for those with rosacea.

Enlarged Nose

An enlarged or swollen red nose may also be a sign of rosacea. The condition can cause thickening of the nose skin and make your nose appear bulbous.

What happens if rosacea is left untreated?


If rosacea is left untreated, unfortunately, permanent damage to the skin can occur. Over time, rosacea almost always becomes progressively worse. This is why it's so important to see a rosacea treatment specialist as soon as possible! Leaving rosacea untreated for a long period of time can lead to permanent redness, spider veins, and acne-like breakouts which can cause significant scarring.

How can Pacific Coast Aesthetics treat my Rosacea?


Pacific Coast Aesthetics can treat your rosacea with microdermabrasion, laser therapy, and special skin care products.

Microdermabrasion

Microdermabrasion is a cosmetic procedure that uses a small handheld device to gently exfoliate your skin. This treatment greatly reduces the redness and acne-like breakouts caused by rosacea. Your specialists can assess your skin to determine whether or not microdermabrasion could be beneficial for your skin condition.

Laser Therapy

A series of laser therapy sessions can permanently remove the signs of rosacea. Studies show that laser therapies can reduce redness, flushing, visible veins, and acne-like blemishes. Laser therapy is a safe procedure that can also brighten your skin tone and reduce signs of aging!

Skin Care Products

Talk to your specialist about skincare products designed for people with rosacea. Implementing the right skincare routine can have long-lasting benefits for blemishes, redness, and spider veins.

If you are experiencing any symptoms of rosacea, contact Pacific Coast Aesthetics to schedule an appointment with one of our specialists. Rosacea can significantly reduce your quality of life, but we are dedicated to making sure you get the treatment you need. This can prevent permanent damage to your face and drastically improve your self-esteem. If you have any further questions regarding rosacea treatment specialists in Aptos, California, please reach out to Pacific Coast Aesthetics. We look forward to helping you overcome this skin condition and make your face glow again! Call us today or simply book an appointment. We are conveniently located at 28 Seascape Village, Aptos, CA 95003. We serve clients from Aptos CA, Capitola CA, Soquel CA, Santa Cruz CA, Live Oak CA, Watsonville CA, and surrounding areas.