Benefits of Laser Hair Removal Questions and Answers
For a more effective hair removal treatment, come to Pacific Coast Aesthetics. Our laser hair removal treatment will win you over from shaving and waxing!

Call us

today at to book an appointment, or visit our clinic conveniently located at

28 Seascape Village, Aptos, CA 95003

.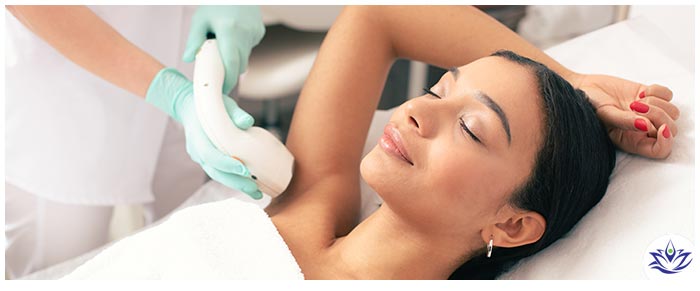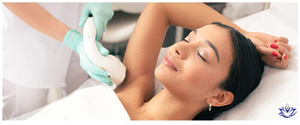 Hair is more than just a fashion statement: it helps keep the body warm and also protects different openings, such as the eyes and nose, from foreign particles. However, hair can grow in unwanted places, can be uncomfortable and even appear unsightly. Shaving and waxing have been popular hair removal methods since times of antiquity, dating back to both ancient Rome and ancient Egypt. More recent advances in science and technology have provided hair removal breakthroughs with procedures like laser hair removal.
What is the least painful laser hair removal?
All laser hair removal treatments are not created equally: some are more effective on different skin types and they come with varying degrees of efficacy and discomfort. Because it is designed to keep the skin cool during the procedure, Forever Bare BBL™ is not only one of the most effective laser hair removal treatments, it is also one of the least painful.
Can you do laser hair removal on private parts?
Yes, it is possible to perform laser hair removal on the private parts. Although these areas can be harder to treat—and therefore take longer—it is possible to remove hair from the pubic region with laser treatments.
Where else can you get laser hair removal done?
Laser hair removal can be performed on several different areas of the body, including:
Arms and legs
The back
The stomach or abdomen
Sternum or chest
Nipples
Fingers and toes
Neck
Jawline
Sides of the abdomen
What are the benefits of laser hair removal?
There are many benefits of laser hair removal, including the following:
Helps Avoid Ingrown Hairs — Ingrown hairs are one of the biggest nuisances that come with shaving, waxing and sugaring. Because the laser helps remove hair from the roots, it also prevents ingrown hairs from appearing.
Leaves Skin Softer Than Before — While shaving and other hair removal methods can leave prickly stubble in a couple of days, with laser hair removal, there is no stray hair or stubble left behind. This means that the skin feels silky smooth after a session of laser treatment, and when the hair eventually grows back, it is thinner and softer than before.
Leaves No Scars Or Painful Side Effects — There are some painful hair removal techniques, such as waxing, sugaring and threading. With shaving, there is the risk of cutting the skin, which can leave scars. However, laser hair removal is a no-mess process that can be carried out on any part of the body with no worry for painful side effects, scars, or bruises.
Provides Long-Lasting Results — While other methods provide short-term, temporary results, the effects of hair removal using lasers are long-lasting. After a laser hair removal treatment, hair can take weeks or months to grow back, and with every subsequent session, the hair takes much longer to reappear and comes in thinner and sparser.
Allows You To Shave Between Sessions — A common frustration with solutions like waxing is that you are advised to let your hair grow to a certain length before scheduling another appointment. This does not apply to laser hair removal. In fact, sometimes clients are even encouraged to shave before the session as it can help with the hair removal process.
If you or someone you love is looking for a more effective hair removal alternative than shaving, waxing or sugaring, come to Pacific Coast Aesthetics for our laser hair removal treatment! We can help you maintain smoother skin. Call us today to book an appointment. We look forward to serving you!