QWO for Cellulite Reduction Questions and Answers
QWO treatment focuses on reducing dimples in the butt caused by cellulite fat. Talk to our team of professionals today at Pacific Coast Aesthetics about QWO for cellulite reduction.

Call us

today or visit us

online

to book an appointment. We are located at

28 Seascape Village, Aptos, CA 95003

.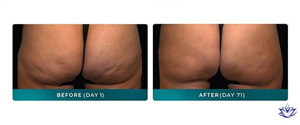 Table of Contents:
What is QWO®?
Why do women develop cellulite?
How does QWO work?
Are there any side effects?
What can i expect during my treatment?
How many treatments will i need?
How long will my results last?
What is QWO®?


QWO® is the first and only FDA-approved injectable treatment clinically proven to reduce moderate-to-severe cellulite in the buttocks of adult women. This quick, safe, and effective treatment is performed by our skilled medical providers in an office setting. Patients can return to normal activities the same day. Most patients experience significant reduction in visible cellulite in as little as 6-10 weeks.

Why Do Women Develop Cellulite?


Cellulite isn't fat. It isn't caused by eating too much or not exercising enough, which is why diet and exercise rarely get rid of cellulite. Like it or not, cellulite is a normal part of a woman's biology. In fact, about 90% of women develop cellulite during the course of their lifetime.

Cellulite is caused by a number of factors, including thinning skin and the development of fibrous bands beneath the skin that pull down from below, causing the skin to dimple.

How Does QWO Work?


QWO contains an enzyme (collagenase) that breaks down the fibrous bands that are tethered to the skin from below. By disrupting these bands, the overlying skin is released, resulting in a noticeable reduction in skin dimpling.

Are There Any Side Effects?


Significant bruising around the injection sites is a common and expected side effect of the treatment. Most bruising resolves within 21 days from the time of treatment. Other possible side effects include discomfort, itching, redness, discoloration, swelling, and warmth to the injection sites. Allergic reactions can occur.

What Can I Expect During My Treatment?


(To facilitate the exam and treatment, please wear thong underwear on the day of your consultation and treatment.)
During your consultation, your medical provider will ask you about the areas of cellulite that concern you the most, and will answer any questions you have about the procedure. If you decide to move forward with treatment, photos will be taken and areas of dimpling (cellulite) will be marked with a chalk pencil. You will then be asked to lie on your stomach and your medical provider will clean your skin with an alcohol swab before using a small needle to inject medication directly into the areas of dimpling. Once the procedure is started, the injections can usually be completed in less than 10 minutes. Following the procedure, you will be asked to continue to lie on your stomach for another 5 minutes prior to getting dressed.

How Many Treatments Will I Need?


Patients receive two treatments spaced three weeks apart. You will be asked to return for a check-up three weeks after your second treatment. Some patients may require a third treatment.

How Long Will My Results Last?


QWO works by disrupting the fibrous bands that pull down on skin from below. Since the development of these bands are a normal part of a woman's biology, new bands can develop over time and dimpling of the skin can return.

If needed, patients can be treated with QWO one year after their initial series of treatments, or whenever the need arises.